New Episodes Coming Soon!
Hi Everyone!
"A Pagan Heart" has been on hiatus for the past several years… it has been a rollercoaster ride, and off-line life had to come before on-line life…
and yet, now I find myself back in front of the microphone. I'm not sure what the new show will look like, but I do know one thing …
I've missed being here…
Bob (Greywolf)
Greywolf's Book is now available!
Life is the Journey, not the destination …What we take from the Journey makes us who we are …
from life as a party clown to jumping in a frozen pond, Greywolf shares some of his observations and thoughts on his journey …
Robert Webber Chipman as "Greywolf Moonsong", has been the host of "A Pagan Heart in Maine" podcast since 2007 …
on each episode he shares a story from his life and what he has chosen to take from those experiences …
these stories are from the first 10 years of "A Pagan Heart in Maine".
Here is the link to his book…
You can also find Greywolf's Artwork on Amazon !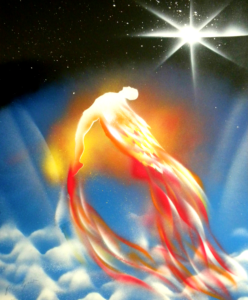 Ocean Moon Creations
Robert creates most of his artwork using simple cans of spray paint, crumpled newspaper, can lids and a palette knife.
He also works with traditional media including acrylics, charcoal, pen, pencil and watercolors.
His art has been published in several novels and magazines.
You can find his work here …